Beskrivelse
Gloves MMA Training – Cowhide leather – fargevalg
Sparringshansker
Boksehansker
MMA Hansker
Advantages of MMA Training gloves
They have a foamed thumb to protect against injury – Thumb Hit Protector system
They have a two-layer foam absorbing the punch strength – Double Layer Protection system
Made from high quality genuine cowhide leather
Thread from very strong fibres was used to sew the gloves
They have double seam
They have a strong and durable fastener – Strong Velcro system
They have a longer wrap to stabilise the wrist
They have an elastic tape protecting against gloves sliding out of your hands
Handmade
Aesthetic zipped case attached
Product information:
The training and sparring Training gloves were designed to maximise safety when training. The use of two-layer foamwith variable density absorbs the shock perfectly, protecting the sparring partner. The open hand facilitates grappling.The extended wrap with a velcro stabilises the wrist, while the elastic tape ensures better fit and protects againstgloves sliding out of hands. The gloves were sewn with a three-fibre thread made 100% from heavy duty polyesterfibres. The gloves are accompanied by an aesthetic and durable zipped case, offering further protection for your glovesduring the storage and in transport.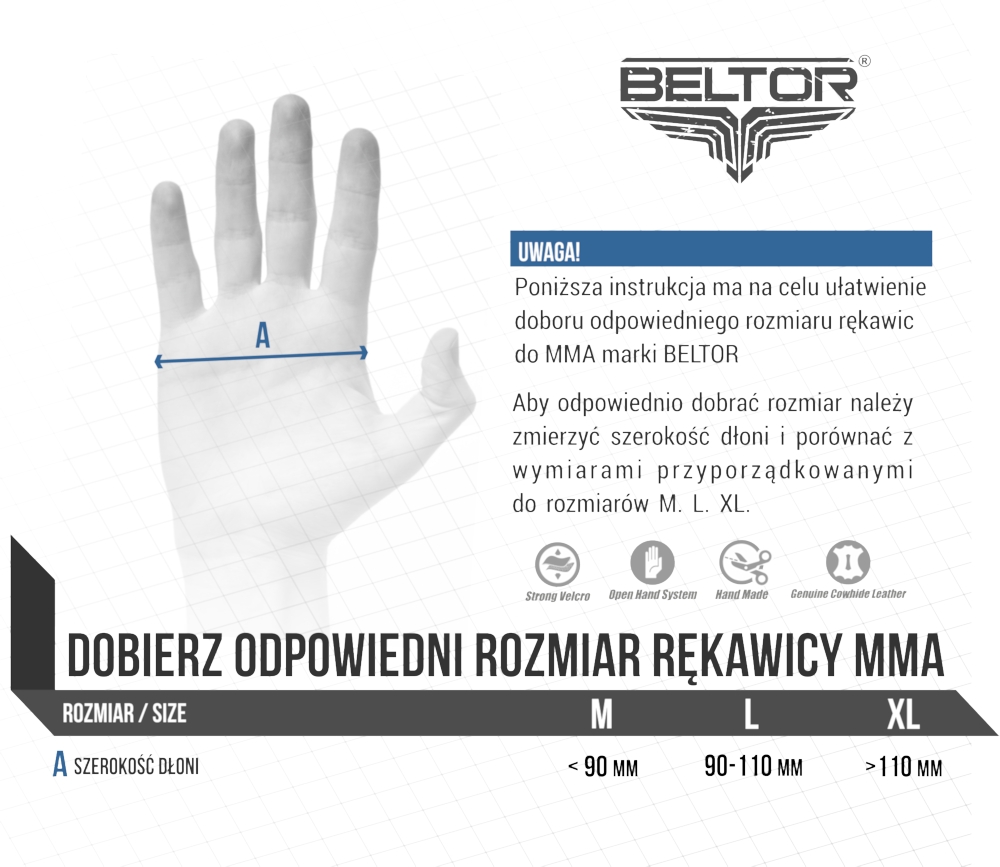 Om produsenten:
Beltor er kampsportutstyr laget for de ypperste av utøvere og produktene er utviklet av forskere, teknologer og en rekke profesjonelle utøvere innen kampsport.
Det brukes råmaterialer med ekstrem slitestyrke og motstand mot skade.
En rekke utprøvde teknologier maksimerer sikkerhet og komfort under bruk noe som er det viktigste for utøveren. Hvert enkelt produkt blir testet og sikkerhets kontrollert på flere stadier av produksjonsprosessen for å sikre den høye kvaliteten.
Det er 14 dagers leveringstid på dette produktet.
Treningsmesteren ble etablert i 2011
Bedriftens formål var, og er stadig, å drive salg og distribusjon av varer gjennom et landsdekkende fagforhandlernett. Treningsmesteren er en del av Kpn.no Kjøpesenter på nett. Treningsapparater, treningsutstyr og alt innen sportsutstyr ble skilt ut av KPN for lettere kunne ivareta kunder som skulle handle treningsapparater og treningsutstyr.
Treningsmesteren holder til på Nesbru rett ved Ikea på Slependen.
Vi er en av de største aktørene på nett på treningsapparater og treningsutstyr. Vi fører følgende produktgrupper: Treningsapparater, Crosstrainer, ro maskiner, spinning, tredemøller, vibrasjonsmaskiner, styrkeapparater, treningsutstyr, elektroniske apparater, løping, små apparater, sport, basketball, ballspill, kampsport, yoga , leker og spill.
En fellesnevner for vår virksomhet er at de produkter vi markedsfører, skal ha høy kvalitet og at du som kunde skal være sikret et godt kjøp og god service.
Kpn.no Kjøpesenter på nett består i dag av:
Kpn.no Kjøpesenter på nett Aggregateksperten Treningsmesteren Varmeeksperten og Orgasmespesialisten